---
---
---
---
CINE MIROIR
LES PROJETS DE RENE CLAIR
Cine Miroir N°218, 7 Juin 1929


VU


Louise Brooks: une vedette international


Ciné magazine, n°18
MAI 1929
TREASURES IN MY HAND
more treasures...
---
---
HUMOUR

d'apres "les femmes" de Kiraz
---

The flash-videos of Louise Brooks on LouiseBrooksWebSite!


by Youtube/PoemasFalados
All the videos
---
FILM FUN


Film Fun Juin 1930

Film Fun Juin 1929

Film Fun Juin 1928
---
Louise by Lilli Carmellini

Source: Lilli Carmellini

---

franceposter.com


Audierne
1925
par Allo

Ile de ré
1930
Artist: unkwown

---
---

franceposter.com


Cannes sports
elegants, 1925
par Sim


Cannes,
1925
artist:unknown

---
PICTUREPLAY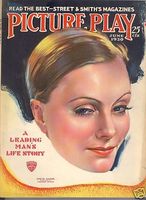 Pictureplay Juin 1930

Pictureplay Juin 1929

Pictureplay Juin 1928
MovieMags.com
---

4 LOUISE


Louise Brooks, C.1925
Source: MilicentBrovovitch

---

LOUISE BROOKS LETTER (1983)
Handwritten letter, both sides: "I wrote about Buster Keaton in Roddy McDowell's book, Double Exposure, 1966." "Buster was always drunk." "After Natalie Talmadge divorced him he married an MGM chorus girl who took care of him.", "Buster got up, took a big drink of whiskey and went back to bed. When Roddy and Buster's wife went in to check, they found Buster dead." The letter goes on to describe Ms. Brooks health conditions in September of 1983. Signed Louise. Louise Brooks had a brief career and became a recluse after retirement in 1931. Fine w/expected fold. 6-3/4" x 8". With a Certificate of Authenticity from R&R Enterprises Autograph Auctions.

---
LOUISE BROOKS, CASQUE D'ENCRE


mardi 15 mai, 23h-0h L'ATELIER DE LA CREATION par Ludovic Chavarot

Dans les années 50, une génération de cinéphiles redécouvre Louise Brooks et Louis Langlois s'écrie: « Il n'y a ni Greta Garbo, ni Marlene Dietrich, il n'y a que Louise Brooks. » Cette dernière dans le film « Loulou » (Pabst, 1929) déconcerte les spectateurs de l'époque par son jeu subtil et sobre, son allure indémodable et un érotisme noir et mystérieux. Le mythe Louise Brooks est né et ce n'est pas à Hollywood mais à Berlin dans la vieille Europe, que ce caractère hors-norme s'accomplit artistiquement. Contrairement à son personnage Loulou qui passe d'hommes en hommes avec une passivité et une naïveté désormais légendaires, Louise ne fut jamais dupe du mirage hollywoodien et son refus du moindre compromis explique à priori la carrière météore de cette fille qui avait compris la première que derrière ses apparats d'or, Hollywood était une broyeuse d'âmes et d'individus… Avec Nine Antico, auteure de Coney Island Baby (L'association), Roland Jaccard, auteur de Louise Brooks , portrait d'une anti-star (Phébus), Philippe Garnier, auteur de L'oreille d'un sourd (Grasset), Jérôme Charyn, auteur de C'était Broadway (Denoël).


Source: France CUlture

---
LLL
LOOKING LIKE LOUISE


---

Louise Brooks by Jessica Brasil
Many sets like it on poyvore.com

---
Marianne Breslauer
Source: thesartorialist




"Swing Twenties"
Lee Hyun Yi by Hyea W. Kang for Vogue Korea


Source: Dustyburrito/Blogspot